Chad is a junior and is very good at track. He runs the 400 meter, 200 meter, 4 * 400 meter relay, and sometimes the 100 meters. He was league champ at 400 m his freshman year with a 53.96.
His best times so far in 2004 are:
Event
Time
Date
Comments
220 y
23.8
April 1
First place vs Gilroy
200 m
23.7
24.0
March 13
March 25
First place Wildcat Relays 4 * 200 m ( split, 1st runner )
First place dual at Live Oak
440 y
53.9
March 2
Red and White ( dirt track )
400 m
53.0
53.52
March 20
March 27
First place, West Valley Relays 4 * 400 ( split, 1st runner )
Stanford Invitational
Note: Hand timed times are given to tenths of seconds, electronic times are given to hundreds of seconds.
Dates and accomplishments this year are ( most recent events are last ). School records are in bold red. Local newspaper articles are linked, as well as full results if they are on the web.
Date
Event
Result
March 2, 2004
Red and White at Hollister
First place 220 y ( 24.4, dirt track )
2nd place 440 y ( 53.9, dirt track )
March 6, 2004
Samuelson Co-ed Relays in Hollister
First place 4 * 220 y coed relay ( 24.1 split 1st runner, dirt track )
First place 4 * 440 y co-ed relay 3:54.2 ( 54.9 split 1st runner, dirt track )
March 13, 2004
Wildcat Relays ( full results here )
First place 4 * 200 m relay 1:34.94 ( 23.7 split 1st runner )
2nd place 4 * 400 m relay 3:37.02
Third place sprint medley 3:42.61 ( 54.1 split, 1st runner )
March 20, 2004
West Valley Relays (full results here)
First place 4 * 400 m relay 3.29.21 ( 53.0 split 1st runner )
March 25, 2004
Dual meet at Live Oak ( cold & rainy )
First place 200 m ( 24.0 )
2nd place 400 m ( 54.3 )
March 27, 2004
Stanford Invitational ( full results here )
400 m ( 53.52 )
4 * 400 ( 53.0 split 2nd runner )
April 1, 2004
Dual meet vs Gilroy ( cold and very windy )
First place 220 yard 23.8 ( dirt track )
First place 4 * 440
Third place 440 yard
Articles about his team are shown below ( and are also linked above ).
------------------------------------------------------------------------------------------------------------------------
Freelance News: http://www.freelancenews.com/sports/sportsview.asp?c=99192
By the Free Lance staff
The San Benito High School track teams finished second in the 11-team Samuelson Co-Ed Relays the school hosted Saturday. It was one of the best fields of competition. Usually, there are no more than five or six teams present. San Benito finished in second place behind North County 91-90 after a hurdles team was disqualified.

The North County frosh/soph team also placed first ahead of San Benito, 103-75. The other scores were Piedmont Hills 63, King City 41, Alverez 40, Branham 35, Leland 20, Oak Grove 18, Monte Vista Christian 14, Independence 12 and Live Oak 8.

Amanda Boyd, Chad Tungate, Jaime O'brian and Jesse Rice recorded a time of 3:54.2 in the varsity 4x440, which is believed to be a school record. ( Note from Mel. It is a school record, but in order to get state of California certification, they cannot keep "official" records because co-ed events are not sanctioned in the state of California. Technically, the Samuelson relays are a fun meet with no "official" times kept. Each event consists of two boys and two girls )

"They did really well," said coach Jen Logue. "It is a real young team after we lost several seniors last year. But we found out about their competitiveness. We tried kids in some new events. I am happy with their performance." Logue expects to have several athletes who played basketball joining the team today for practice.

San Benito varsity results

4x880 - 2nd 9:53.9 4x110 - 1st 49.8 4x220 - 1st 1:43.3 4x100 H - 1st 1:12.61 4x 2-mile - 2nd 55 4x110 weightman's - 3rd 56.2

4x440 - 1st 3:54.2 Commando run - 3rd 27.07 PV - 4th 28'6" HJ - 5th 10'4" SP - 4th 129' 3 1/2" TJ - 6th 125'10"

D - 2nd 368' 4 1/2' LJ - 2nd 66'6"
------------------------------------------------------------------------------------------------------------------------
Freelance News: http://www.freelancenews.com/sports/sportsview.asp?c=100544

Wednesday, March 17, 2004
By the Free Lance staff
Both San Benito High varsity track teams came in second in the Wildcat Relays at Soquel High School on Saturday.

The boys lost by a mere six points to North Monterey County, and the girls came in second to Aptos High School. More than 20 teams participated in the relays.

The highlight for the boys was a first-place finish in the 4 x 200 meter relay.

The quartet of Chad Tungate, Tamar Elbanhawy, Willie Sanchez and Jesse Rice beat the North Salinas by 0.14 seconds. All four Balers finished with a time under 24 seconds.

Tungate, Elbanhawy, Rice and Jonathan Rivera came in second in the 4 x 400 meter relay, and also third in the sprint medley (400 m, 200 m, 200 m and 800 m).

The Baler boys also came in second in the 4 x 800 relay, second in the high jump relay, second in the shot put relay and third in the 4 x 110 high hurdles.

The lady Balers finished first in the sprint medley, second in the 4 x 400 relay, second in the long jump relay, third in the 4 x 3200 relay, third in the 4 x 100 hurdles, third in the triple jump relay and third in the high jump relay. San Benito placed third in the co-ed 4 x 400 hurdle relay.

The frosh-soph boys were second in the 4 x 65 m hurdles, second in the high jump relay and eighth overall.

The next track meet is Saturday at the West Valley Invitational Relays.
------------------------------------------------------------------------------------------------------------------------
Freelance News: http://www.freelancenews.com/sports/sportsview.asp?c=101146
Monday, March 22, 2004
By the Free Lance staff
Both 4 x 400 meter San Benito High School varsity relay track teams had good showings at the prestigious West Valley Relays on Saturday. The two teams saved their best for last as the girls took second and the boys took first. "Both of those times are the fastest times that we have ever run this early in the season," said Baler coach Jennifer Logue. "We are really excited. Having such a good early-season times gives them that much better chance of making it to state. The four people we have on each of those teams are not really in shape yet. I know they can run faster."

The girls 4 x 400 meter team, consisting of Amanda Boyd, Abby Ceja, Michelle Sanchez and Jamie O'brian, ran a 4:09.81. All four runners were under 64 seconds. The same foursome placed sixth in the sprint medley. Sanchez, who came out for track this year, was racing just her second ever 4 x 400 race. "It is almost like the farther she goes - up to a point - the faster she gets," Logue said. "She is a very talented athlete like all four of the girls on the team are."

The boys foursome of Chad Tungate, Jonathan Rivera, Jesse Rice and Tamar Elbanhawy won the gold in the 4 x 400 with a time of 3:29.21 - each runner finished in 53 seconds or less. For the second week in a row, they beat Palma and North Monterey County, two strong opponents in this event. Rivera also placed fourth in the 1500 meter with a time of 4:09.27, just a fourth of a second above coach Cuco Chavez's school record of 4:09.0. Rivera placed sixth in the 800 meter and anchored the sprint medley team, which finished in seventh place.

Ryan Sesody was fifth in the pole vault with a 12-foot vault. Chris Uribe had an 11-foot jump in the same event, and Todd Merrigan was right behind. Merrigan also took seventh in the high jump.

The 4 x 100 boys relay team finished with a fifth. Siljef Tabancay placed eighth in the 400 meter hurdles, and John DiSalvo placed ninth. The boys placed sixth overall in the meet.

Amanda Boyd placed sixth in the girls long jump with a personal best of 16' 2 1/2", and Danielle Andrewson was sixth in the triple jump. Mary Von Urff threw a 30'7" - her best of the year. The girls 4 x 100 relay was seventh.

Both teams will compete on Live Oak's new track this coming Thursday at 3:30 p.m. in the first dual meet of the year. Rivera and Live Oak's Billy Wong are expected to give each other a good race especially in the 1600-meter race. "Live Oak has a lot more people than they used," Logue said. "They have some pretty good athletes. They will be tougher than they have been in the past."

Next weekend a few Hollister track athletes and the relay teams are invited to compete in the Stanford Invitational - a meet where the top athletes from several states compete.
------------------------------------------------------------------------------------------------------------------------
Freelance News: http://www.freelancenews.com/sports/sportsview.asp?c=102030
Speedy harriers post strong numbers at Stanford meet

Monday, March 29, 2004
By the Free Lance staff
The San Benito High varsity track and field teams competed at the Stanford Invitational last weekend along with more than 4,200 high school, college and professional runners, jumpers and throwers.

Competing in the events were past and present Olympic champions like Maurice Greene, world record holders and some of the finest college and high school track and field athletes in the nation.

Most of the high school events featured the leaders in this year's California state track standings.

Many of the races also featured state champions from several states.

The Hollister girls 4 by 400 team continued to lower the season's best time and placed 11th in the high school girls division with a time of 4:08.43.

Jonathan Rivera had a strong performance with a PR mile of 4:21.07 - one of the top CCS times. He was chasing an extremely strong field - the best he will face before the end of the season.

Jesse Rice almost equaled his season-ending time last year, by running 51.73 in the boys 400-meter race and finishing 17th.

The boys 4 by 400 meter relay team finished 20th with a time slightly slower than last week's time.

Other competitors were Willie Sanchez in the 100 meter, Todd Merrigan in the pole vault, Mason Dungy in the pole vault, Chad Tungate in the 400 meter and Jeff Spencer in the mile.

The boys 4 by 100 meter relay and the boys 4 by 800 meter relay teams also competed.

Jamie O'Brian and Amanda Boyd ran the 400 meter, and the girls 4 by 100 meter relay team participated.

At the North Salinas High School Frosh-Soph Invitational, Todd Merrigan won the high jump with a jump of 5' 10", and was second in the pole vault at 10' 6".

Kyle Bambrick was third at 800-meter with a time of 2:10.5, and Francisco Faria was fifth in the high jump.

The Haybaler track and field teams will compete this coming Thursday at 3:30 p.m. against visiting Gilroy.

The Gilroy boys have a fine shot putter in sophomore Robert Best, who has thrown over 47 feet already this season.

The girls are led by sprinter Raquel Butler, who runs the 100 in less than 13 seconds.

The picture above is of the 4 by 400 meter San Benito High School team, with Maurice Greene, defending Olympic 100 meter champion and former world record holder. Left to right are Jesse Rice, Chad Tungate, Maurice Greene, Jessica Rux ( 12 year old long distance champion ), Willie Sanchez, coach Iran White and Tamar Elbanhawy. If you click on the picture, it will expand to its full size.

------------------------------------------------------------------------------------------------------------------------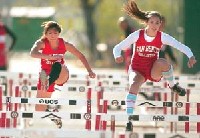 Nick Lovejoy/Photographer
Jennifer Anaya, right, and Kristen Para compete in the hurdles during the meet Thursday in Hollister that the Haybalers won.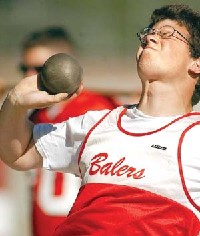 Nick Lovejoy/Photographer
Jessie Grace tosses a shot put during the track meet against Gilroy.
Freelance News: http://www.freelancenews.com/sports/sportsview.asp?c=102611
San Benito runs by Gilroy

Friday, April 02, 2004
By the Free Lance staff
The San Benito track teams handily defeated the visiting Gilroy Mustangs on Thursday at Hardin Field.

The Hollister varsity boys ran past Gilroy 110-26, while the varsity girls won 99-35. The frosh-soph girls won 111-3, and the boys won 87-48.

The varsity teams won both the 4 by 110-yard relay and the 4 by 440-yard relay. And both varsity teams swept first, second and third places in about a third of the events.

The best times of the day were in the 330-yard hurdles. John DiSalvo ran 42.44, one of the faster times run on Hollister's track.

Jaime O'Brian clocked under 50 seconds for the girls in the 330 hurdles.

The boy's mile was very competitive, as Hollister's Josh Vasquez nosed out his teammate Albert Sandoval.

Jessie Grace threw the shot put 46' 2" in a very competitive dual, besting Gilroy's Robert Best.

San Benito's Chris Stephens threw 137' 6" in the discus. Four Hollister boys had jumped better than 20 feet in the long jump.

In an event finished in the dark, the Hollister boys swept the pole vault as Chris Uribe went 11' 6".

The girls 4 by 440 yard relay put on a show with a good time as the sun was almost set to finish the normal meet.

The boys won almost every event except the 100 meters. In spite of being beaten solidly, the Mustangs Stephanie Radtke doubled in the 880 and the mile, and Raquel Butler won the 100 meters and 220-yard dashes.

At the request of both teams, the two teams ran a weightman's 4 by 110 yard relay challenge after the normal meet. The Haybaler's won that one also, accompanied with great cheers from a boisterous Baler and Mustang crowd.
------------------------------------------------------------------------------------------------------------------------
Freelance News: http://www.freelancenews.com/sports/sportsview.asp?c=103427
Two runners head down under
Thursday, April 08, 2004
By Nathan Mixter/Sports Editor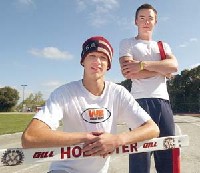 Johnny DiSalvo, left, and Jesse Rice will be representing California in Australia this summer in track.
Photo by: Nick Lovejoy/Photographer


Two local athletes will be racing with the kangaroos and emus this summer.

San Benito High hurdler Johnny DiSalvo and sprinter Jesse Rice have been invited to compete in the Parkroyal Down Under International Games in July among some of the best high school track athletes in New Zealand, Australia and the United States. "It is an awesome opportunity for these guys," said Iran White, who took over as the boys track coach this year after about seven years as an assistant. "It is great to see them excited about track beyond the regular season. It will make them better and will make our whole team better."

The two athletes aren't usually together because of the different events they compete in. But they will be flying out together with the rest of the California team from Los Angeles this summer to Austrailia. Neither athlete has been out of the country before. The pair started competing together when DiSalvo was a sophomore and Rice was a freshman. "During my sophomore year, I knew I had pretty good legs and I was pretty fast, so I knew track would be a good sport for me," DiSalvo said. "I wasn't really that good my first year, but I have been working hard ever since."

DiSalvo and Rice were both active in several different sports before racing at San Benito. DiSalvo played football during his junior year of high school and played in Little League and Babe Ruth growing up. "I would always go out and play with friends in the streets growing up," DiSalvo said. Rice played Little League Baseball and recreation soccer when he was young. He competed in various sports in high school such as soccer and basketball. Rice is also an avid golfer.

DiSalvo - a hurdler

DiSalvo, a senior, runs in the 110-meter high hurdles, the 300-meter intermediate hurdles, the 400-meter and the 4 by 400-meter team. "Going out there and winning this year has been fun," DiSalvo said. "Track is a great sport. Not only is it great competition, but it is a great atmosphere to be in." He won both hurdles events in King City last week. Last year, in the Central Coast Section semifinals, he had an official time of 16.16 in 110-meter hurdlers. His best time this year is a 16 flat, but he hopes to get it down to about a 15.5. In the 300 hurdles, his fastest time is a 42, and he hopes to have it down to a 40.5 by the end of the season. "Its going to take a lot of practice and hard work," said DiSalvo of meeting his goals. "I have perfect form. I just have to get my speed up."

DiSalvo said he plans to put in even more long hours after the high school season. "When track season ends, I will be continuing my training for the Austrailia meet," DiSalvo said. "The coaches want to build a good conditioning base for us at the beginning of the season, then have us break before CCS and peak again before we leave." Hurdles coach Carlos Beltran said DiSalvo is a natural hurdler because of the effort he puts in. "He is one of the hardest workers out their," Beltran said. "Once he realizes how good he is, there is no stopping how fast he can be this year. There is nothing wrong with his form, but his speed is hurting him a little in the longer races like the 300 hurdles." Beltran, a former 300 hurdler who graduated two years ago, said he wanted DiSalvo to compete in the longer hurdles as well this year because of the smaller team.

Rice - a sprinter

Rice competes in 400-meter, the 200-meter and the 4 by 100-meter and 4 by 400-meter relays. His best event is the 400-meter. Last year he finished with a 51.7 in CCS - a time that he has equaled this year at Stanford. In the 4 by 400, he finished with a time of 3:27 in CCS. His best time in the 4 by 400 event is 3:29, which he recorded at West Valley.

His goal is to be around a 49 by the end of the season.

"My sprinting coach (White) is really good," Rice said. "He makes sure I am working my hardest." "I'd like to taper off his workouts a little bit before CCS," White said. "After the regular season, I would like to see where he is and what he needs."

Rice said he gets a lot of the motivation to run from Chad Tungate, another Baler sprinter. "He is just as fast as I am," Rice said. "There is a friendly competition going between us, because I don't want him to beat me."

Although White mostly trains the distance runners, he also works with some of the sprinters like Rice and Tungate. "Jesse has a really great attitude and is one of the hardest workers on the team," White said. "This year, we are trying to work on his top-hand speed and his initial acceleration. Hopefully, we'll have him peak next year as a senior."

DiSalvo still needs about $2,000 of the $3,198 needed to go to Australia, and Rice has about half of what he needs to make the trip.

The two athletes will have a garage sale on Friday and Saturday at Rice's house on 1051 Clearview Drive to raise money for the trip.

------------------------------------------------------------------------------------------------------------------------

Pinnacle News: http://www.pinnaclenews.com/sb-edition/sbsports1.php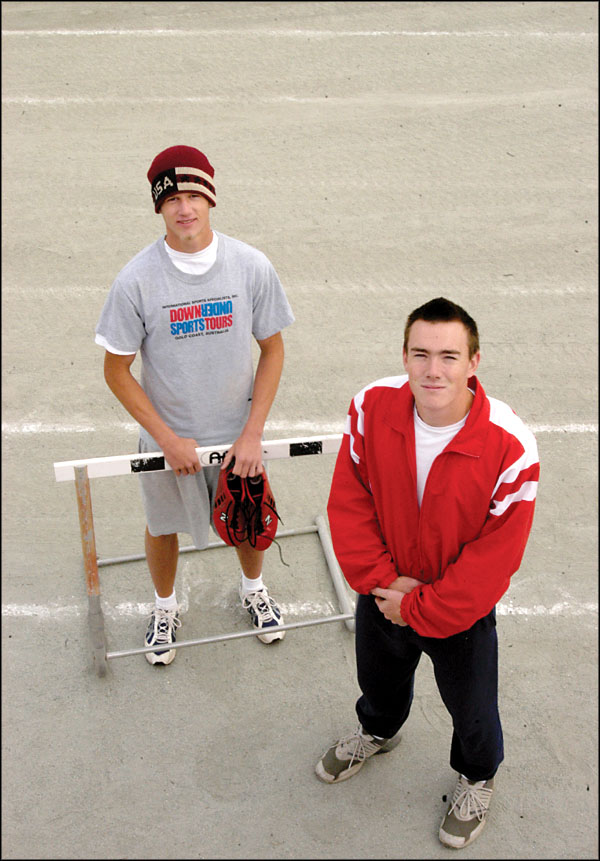 Photo by JOEL TURNER

San Benito High track and field performers Johnny DiSalvo and Jesse Rice will travel to Australia this summer to participate in the International Down Under Games.

Two Balers will run 'down under'
Track team members accept invitation to international event

By JOHN REID
Pinnacle Correspondent
Make way for the filming of "Johnny and Jesse's Excellent Australian Adventure."
Two San Benito High track and field performers – Johnny DiSalvo and Jesse Rice – will travel to Australia this summer to participate in the International Down Under Games. The games run from July 5-13 on Australia's Gold Coast, then the two boys will spend a couple of nights in Sydney, site of the 2000 Summer Olympic Games.
"We'll have time to explore Australia," said Rice, a junior 400-meter man for the Balers. "It will be an experience being out of the U.S. It will be an adventure!"
"It will be really cool," added the senior DiSalvo, who specializes in both hurdle events. "It's a once-in-a-lifetime experience."
The boys are in the midst of raising the $3,200 necessary to cover expenses. Both of them are about $2,000 short. The pair are teaming up for a garage sale at Rice's house this Friday and Saturday. Each athlete has sponsor letters out soliciting donations from local businesses.
"Our family and friends are donating stuff for the garage sale," said Rice.
The trip is a go, even if the boys have to swim to get there. Several athletes were invited based on last year's CCS results, and the two accepted the offer. Baler Athletic Director Randy Logue couldn't be prouder.
"Both athletes have worked hard," said Logue, a former Baler boys' head track and field coach. "Rice is an avid weight lifter and has really paid his dues. DiSalvo has come out of nowhere to be a fine hurdler. They both persevered through hard work."
Rice, who also runs on the Baler 4X400 and 4X100 relay teams, plans to run the 400-meters during the games.
"If they have a 60-meter dash, I'll run that, too," said Rice. "I'll also run the 200-meter race and the 4X400 relay."
DiSalvo, who runs the 110-High Hurdles and 300-Intermediate Hurdles, plans to run both in Australia, with a slight deviation.
"They run the 400-Intermediate Hurdles there," said DiSalvo. "I'll run the open 400 and I want to form a 4X400 relay team with Jesse when we get there. We can enter as many events as we want."
Both athletes are enjoying fine seasons in the States, so to speak. Rice logged a personal record in the 400 last season with a time of 51.4. His best this year was at the Stanford Invitational when he clocked 51.7. He's part of a Baler 4X400 relay team that sizzled with a 3:29.21 at the West Valley Relays earlier in the year. As far as winning this year's Tri-County Athletic League meet, Rice must contend with Palma's Luke Lippincott, who is running a second faster than Rice at the moment.
"Jesse is running well," said Baler head coach Iran White. "For him to win league won't be easy, but he could compete for first."
DiSalvo, who has a personal record of 15.7 in the 100's and 42-flat in the 300-IM's, is expected to battle for the league title in both events with teammate Siljef Tabancay.
"I hope they're both battling it out for first," said White. "That would be nice."
"DiSalvo has come a long way," said Baler hurdles coach Carlos Beltran, a Baler alumnus of 2002.
"His technique is perfect. We need to get him up to speed by the time he goes to Australia. We're working on it. He'll be there."
Other sports, such as golf, track, swimming, basketball and volleyball, will be part of the games. Participants will come from all around the world.
Admittance to museums and theme parks are free for all entered. And in Sydney, the boys will be able to take a gander at the Olympic venues from four years ago. The boys will stay at five-star hotels. All told, it should be one 'excellent adventure'.
"I've seen athletes with a lot of talent who don't work hard and never amount to much," said White. "And I've seen athletes who don't have talent, but work hard and do well. Jesse and Johnny both have talent and both work hard. They'll be able to figure out their steps in Australia. They'll find out that they can push the pace harder and be more brave. Going to Australia will be great for them."

Note: The garage sale fundraiser, with profits to be divided between both athletes, is this Friday and Saturday at 1051 Clearview Road in Hollister. Financial contributions can be mailed to the same address, with the zip code 95023.